TENTH ANNUAL HOLIDAY SALE FEATURING LOCAL ARTISTS
Saturday, December 6, 2014 – 10 a.m. to 4 p.m.
The Stark Realty Building, corner of High Point and Old Sauk Roads, Madison
(Exit West Beltline at Old Sauk then go one block east or take Old Sauk west to High Point — enter off High Point)
I'll be there! Note: the flyer indicates check and cash only, but I'll be able to take credit cards with Square. I'm guessing several other vendors will have that capability too.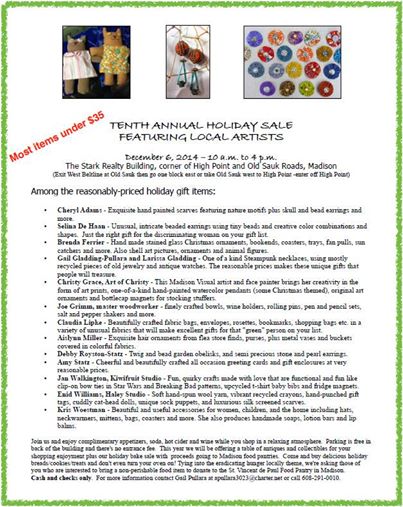 Among the reasonably-priced holiday gift items:
• Cheryl Adams – Exquisite hand painted scarves featuring nature motifs plus skull and bead earrings
• Selina De Haan – Unusual, intricate beaded earrings using tiny beads and creative color combinations and shapes. Just the right gift for the discriminating woman on your gift list.
• Brenda Ferrier – Hand made stained glass Christmas ornaments, bookends, coasters, trays, fan pulls, sun catchers and more. Also shell art pictures, ornaments and animal figures.
• Gail Gladding-Pullara and Larissa Gladding – One of a kind Steampunk necklaces, using mostly recycled pieces of old jewelry and antique watches. The reasonable prices makes these unique gifts that people will treasure.
• Christy Grace, Art of Christy – This Madison Visual artist and face painter brings her creativity in the form of art prints, one-of-a-kind hand-painted watercolor pendants (some Christmas themed), original art ornaments and bottlecap magnets for stocking stuffers.
• Joe Grimm, master woodworker – finely crafted bowls, wine holders, rolling pins, pen and pencil sets, salt and pepper shakers and more.
• Claudia Lipke – Beautifully crafted fabric bags, envelopes, rosettes, bookmarks, shopping bags etc. in a variety of unusual fabrics that will make excellent gifts for that "green" person on your list.
• Aislynn Miller – Exquisite hair ornaments from flea store finds, purses, plus metal vases and buckets covered in colorful fabrics.
• Debby Royston-Statz – Twig and bead garden obelisks, and semi precious stone and pearl earrings.
• Amy Statz – Cheerful and beautifully crafted all occasion greeting cards and gift enclosures at very reasonable prices.
• Jan Walkington, Kiwifruit Studio – Fun, quirky crafts made with love that are functional and fun like clip-on bow ties in Star Wars and Breaking Bad patterns, upcycled t-shirt baby bibs and fridge magnets.
• Enid Williams, Haley Studio – Soft hand-spun wool yarn, vibrant recycled crayons, hand-punched gift tags, cuddly cat-head dolls, unique sock puppets, and luxurious silk screened scarves.
• Kris Woestman – Beautiful and useful accessories for women, children, and the home including hats, neckwarmers, mittens, bags, coasters and more. She also produces handmade soaps, lotion bars and lip balms.
Join us and enjoy complimentary appetizers, soda, hot cider and wine while you shop in a relaxing atmosphere. Parking is free in back of the building and there's no entrance fee. This year we will be offering a table of antiques and collectibles for your shopping enjoyment plus our holiday bake sale with proceeds going to Madison food pantries. Come and buy delicious holiday breads/cookies/treats and don't even turn your oven on! Tying into the eradicating hunger locally theme, we're asking those of you who are interested to bring a non-perishable food item to donate to the St. Vincent de Paul Food Pantry in Madison.
Cash and checks only. For more information contact Gail Pullara at apullara3023@charter.net or call 608-291-0010.